If you have not updated your iPhone or iPad to iOS 13 then you must do it immediately. iOS 13 brings a lot more features on iPhone and iPad that you can enjoy. It will make your life more easy on the go. Almost 50% of the people have upgraded to iOS 13 to enjoy new features. You simply need to go iPhone/iPad Settings >> General >> Software Update. Wait for update to download and then install automatically. It won't delete any personal data of yours. However it will reset few settings in the process.
You may face certain problems with your WiFi network or bluetooth devices. Few people may face issues with cellular network. The solution to these problems is very simple. You simply need to reset network settings on your iPhone/iPad. iOS 13 makes it very simply to get rid of networking issues such as WiFi networks, hotspot, bluetooth devices, VPN etc..
Follow the below steps to reset network settings in iPhone/iPad (iOS 13):
Go to "Settings" on your iPhone/iPad.
Go to "General".
Tap on "Reset".
Tap on "Reset Network Settings" in the middle.
It will ask for a passcode. Enter the passcode.
Confirm once again that you want to reset network settings.
Your iPhone/iPad will restart once you confirm and it will reset network settings.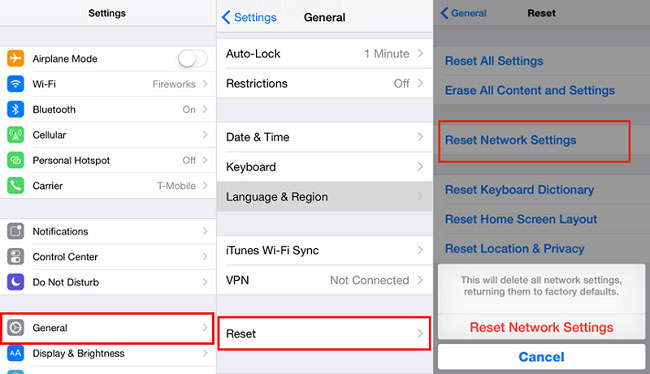 You must be wondering what happens when you reset network settings in iOS 13. It's a common question that many people ask. Reset network settings mainly deletes all saved Wi-Fi networks, paired bluetooth devices, cellular network settings, VPN settings and other network related settings. It brings them to default factory setting.
Once you reset network settings then you need to again enter password for your Wi-Fi network to join in. You need to save again. If you have applied any static IP or VPN settings then you have to do it again. It will start fresh.
The above settings method is applicable to latest iPhone 11/11 Pro/11 Pro Max, iPhone XR, iPhone X, iPhone 7, iPhone 6S, iPhone 8 and other iPhones where iOS 13 can be installed.
If you are still facing any problem then comment below so that we can help you out. Don't forget to share this article.