You newly bought Airpods are not connecting to your Macbook and you have no idea why. You must have tried all the possible ways to make the Airpods get connected to Macbook so that you can listen to your favorite music wirelessly. If your iOS devices are linked to the iCloud account then Airpods will pair quickly with them without any problem. However not all things go as shown in launch videos. Right? Keep reading the methods to know why your Airpods won't connect to your Macbook.
There can be multiple reasons behind Airpods not connecting successfully with Macbook. The reasons can be charging problem, Bluetooth pairing problem, Airpods as output device problem or may be it's the charging case of the Airpods.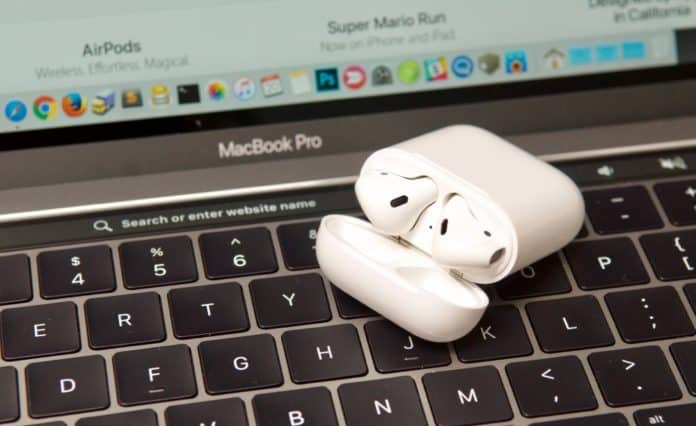 Update your Macbook to latest version
You need to make sure that your macbook is running the latest MacOS. The latest operating system for Macbook is MacOS Sierra. If you don't have latest OS in your Macbook then Airpods won't connect for sure. Update your Mac now or just check whether it has the latest OS.
To Update: Click on the Apple logo at the upper left hand corner of mac screen and tap on About This Mac. A popup will appear when you will click on on about this mac. Tap on software update to update the MacOS if it doesn't show MacOS sierra.
If you have updated MacOS and your AirPods are still not connecting to Mac then follow the steps mentioned below:
Turn ON Macbook Bluetooth – To connect any bluetooth device to your Macbook then bluetooth should be turned on. Go to System Preferences >> Tap on Bluetooth >> Turn ON Bluetooth. Your Macbook will say "Bluetooth ON" when it's turned on.

Bluetooth can also be turned on clicking on bluetooth icon in the upper right hand corner of macbook. It will be black when turned on and grey when turned off. Tap on Bluetooth icon and tap on "Turn Bluetooth ON".

Put Airpods into Bluetooth Pairing Mode – Bluetooth pairing mode allows Airpods to connect to other bluetooth devices. It will also connect devices which are not linked with your iCloud account. If the iPhone or macbook isn't logged into iCloud account then activate the bluetooth pairing mode on the Airpods. It will make them connect to your Mac without any problem. Follow below steps to switch on Bluetooth pairing mode:

Put Airpods into charging case and keep the lid of case open.

Press and hold the setup button which is at the back of the charging case.

When bluetooth pairing mode is turned ON then status light will flash white.

Connect Airpods to Macbook Manually –

Airpods are mainly designed and constructed so that they can get linked to any iOS devices linked to your iCloud account. However due to technical reasons, It may not work like that and you have to connect airpods to mac manually. When automatic connection isn't happening then connect manually. Follow the steps given below to connect Airpods manually

:

Open charging case of Airpods.

Go to System Preferences >> Bluetooth in your Macbook.

Make sure the Bluetooth is turned ON for your Mac.

In the devices list, double click Airpods.

Now Airpods will get manually connected to Macbook.

Note: You can also get manually connected to Airpods by clicking the Bluetooth icon in upper right corner of mac and then selecting Airpods to get connected.

Forget Airpods as Bluetooth Device – Sometimes Airpods don't get connected even when you manually click on Airpods from the list of bluetooth devices. It may be due to some technical reasons. In order to make things work, you can forget the Airpods from the Bluetooth device list and then try to get connected again just like first time. Follow the steps given below to forget Airpods and list it freshly in bluetooth devices list.

Go to system preferences.

Click on Bluetooth icon.

Select Airpods from list of device and click on X in front of it.

Click on "Forget Device" when any alert appears.

Now try to reconnect Airpods to Macbook after sometime. Most of the time this method works perfectly and Airpods get connected successfully.

Airpods as Output Device – Whether you know or not but you need to select output device for the sounds produced by Macbook. Macbook is smart enough to detect headphones, speakers and such things and changes the output device accordingly but sometimes due to technical reasons it doesn't get changed. It causes problem for the person. You may think that Airpods are not connecting properly to Mac however output device didn't change in actual. You can fix it by selecting Airpods as your output device in sound settings.

Make sure Macbook Bluetooth is turned on and Airpods charging case is open.

Go to System Preferences >> Click Sound >> Click on Output tab.

Select Airpods as the output device and test it by playing some music on mac.

In case you don't see Airpods then first connect it to Mac using Bluetooth.

Charge Airpods charging case and Charge your Airpods – The charging case that comes with Airpods has an inbuilt battery inside it. You need to make sure that it's charged from time to time. It can be charged with or without Airpods. You also need to charge Airpods. Enough battery is required on Airpods to function properly. A low battery will cause issues while connecting with your mac. Put your Aipods in the charging case to charge it.

Green Status Light – Airpods are fully charged.

Amber Status Light

– Less than one full charge.

White Flash – Airpods are ready to be connected to one of the bluetooth devices.

Check for Debris in Charging Case

–

You should check for dust and debris in the charging case and Airpods. If there is debris in the charging case then it will create problem in Airpods charging. We normally see debris being present in iPhone charging. We need to carefully clean it up for proper functioning of the device.

Reset Airpods – One of the last solution from our side to reset your Airpods. You can reset Airpods from charging case. It will fix minor issues related to connectivity with bluetooth devices. A reset will give Airpods a fresh start to connect with your mac. Follow steps below to reset your Airpods:

Press and hold setup button on charging case.

Release button when status light flashes amber few times and then white.

It will reset your Airpods and you can now connect with your mac without any problem just like first time.

Repair your Airpods – There is always a chance of hardware issues. In such cases you need to get your Airpods checked at authorized Apple service center. If Airpods are under warranty then get them replaced as soon as possible. If they are repairable then someone there will surely fix it up for you. There is 1 year warranty available for Airpods.
After trying all the above things, hopefully you will get easily connected to your macbook for listening to your favorite music and watch videos. If you are still having difficulty in connecting after trying all 8 methods above then go for 9th one fast and get them replaced.